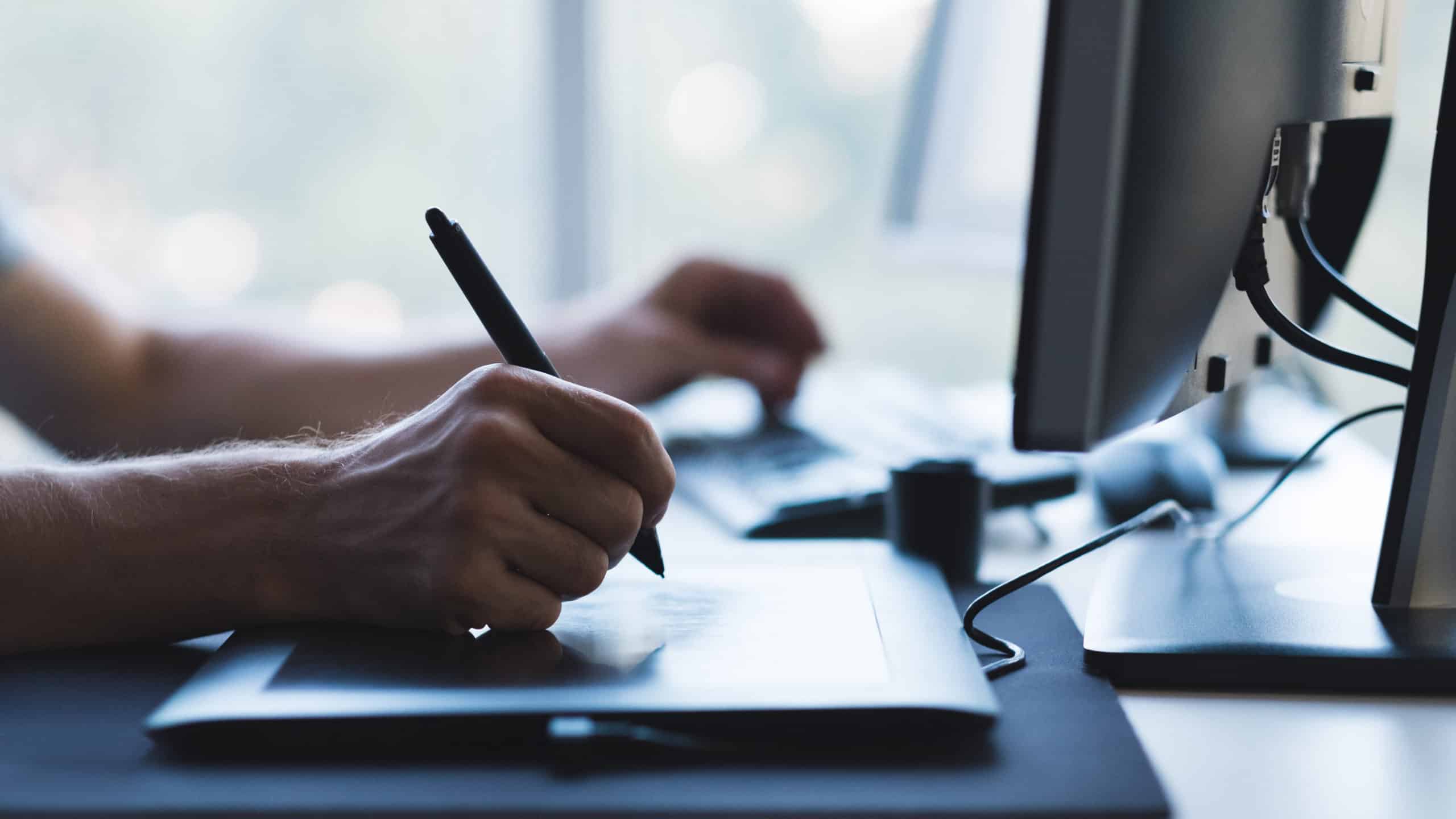 CREATIVITY, USABILITY AND THE ENVIRONMENT AT THE HEART OF PRODUCT DESIGN
Pioneers from the start and with a guiding spirit of innovation, we are always seeking to create new packaging solutions that are designed to combine attractiveness, quality and functionality. We predict the future requirements that will impact our packaging (respect for the environment, preservation and protection of food, changing lifestyles) and our R&D department comes up with the packaging solutions of tomorrow.
We also make our expertise available to partner R&D programs making use of new technologies to develop new sorting and recycling solutions. We support ideas that prioritise a circular economy and sparing use of food packaging.
PROTECTION IS PART OF OUR DNA
Since 1972 our mission has been to protect food, creating tailored food packaging solutions that have been adapted to requirements and respect the environment. Protection is part of our DNA.
PROTECT MORE. We go beyond the standards required by the regulations for pre-launch materials analysis in our markets, in particular the European REACH directive that applies to our products. All of our suppliers are carefully selected to guarantee hygiene, safety and food safety.
PROTECT ALWAYS. In addition to our own laboratory, we have access to a network of partner labs for cutting-edge analysis technologies. Our internal processes are extremely rigorous, allowing us to guarantee that all of the relevant regulations are met in full.
PROTECT BETTER. We always opt for the right materials and the right solutions, in line with our commitment to guarantee zero risk for consumer health. For example, the use of virgin cardboard compared with recycled cardboard for surfaces with food contact, the manufacturing of pulp packaging in Europe or the use of PET and PP, standardised, tried and test materials that are recyclable. We also invest in R&D to come up with ideas for innovative materials.
ECO-AWARENESS AT THE HEART OF OUR DESIGN EVOLUTION
We have always advocated conservative use of packaging. Over more than 20 years our ecological design process has allowed us to reduce the weight of our packaging by 40%.
1998 – Switch from PVC to PET and then rPET (recycled). The Group already uses a large proportion of recycled material in its packaging and was the first French producer to use this material 2005 – Launch of a PLA line (material made from corn starch)
2005 – Launch of a PLA line (material made from corn starch)
2011 – Reduction of packaging stacking footprint to optimise transportation (+65% packaging in each journey)
2014 – Development of mixed card/PET product ranges, innovative concepts protected by international patents
2017 – Launch of "reusable" product ranges for dishware
2018 – Agreement with PAPREC to implement a PET tray recycling line
2019 – Signature of an exclusive partnership with Prevented Ocean Plastic TM
2020 – Launch of the ALTER ECO BIO, ALTER ECO RECYCLE and ALTER ECO RE-USE segmentations
1973
Launch of the PATIPACK range, a plastic box targeting hypermarket and supermarket confectionery departments.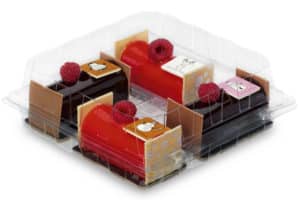 1978
Launch of MULTIPACK, a plastic box with a hinged lid for prepared food supplied to hypermarkets and supermarkets.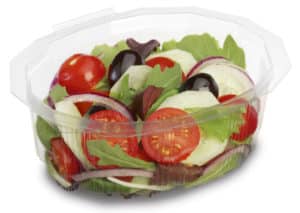 1996
Creation of a new range of very innovative range of confectionery boxes with a traditional look: CLASSIPACK.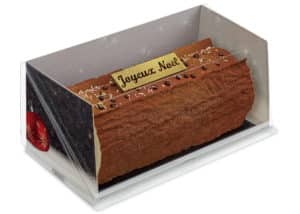 2000
Development of THERMIPACK, an innovative method of microwave steaming in the packaging (for fresh and frozen products), which was recognised with the Oscar de l'Emballage and the European "Eurostar" Oscar.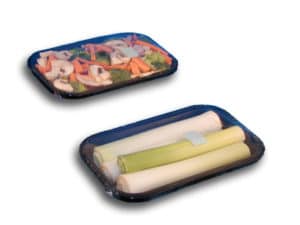 2002
Launch of new ARCHIPACK and MARMIPACK hot boxes.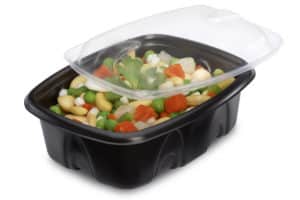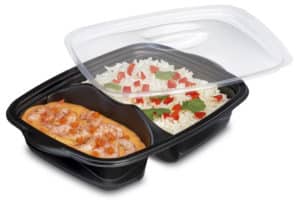 2013
Major innovations: DISTRIPACK (shaker for fruit & vegetables), WOKIPACK (an elegant wok for hot and cold prepared food), TAKIPACK (compact design for salads and individual pastry and cake items).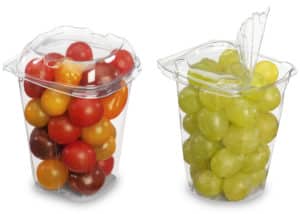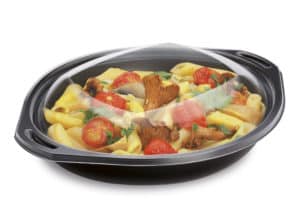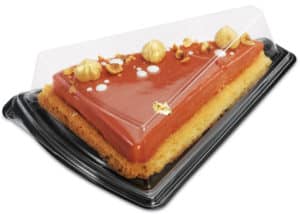 2014
The Pack the Future 2014 award is given to VERIPACK EMBALAJES for its DISTRIPACK shaker, in the "Societal Benefit" category at the Interpack fair in Dusseldorf, Germany.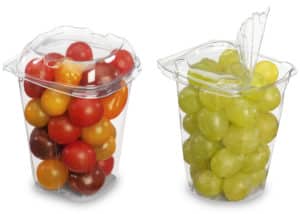 2015
Major innovations: LUXIPACK (hybrid confectionery and pizza box with cardboard base and PET lid), FRESHIPACK (boxes for snacks and takeaway meals, with attached cover, pyramid shape), COOKIPACK (for hot foods with an innovative ventilation system).
The UK Packaging Awards recognised SHARPAK for the FORTIS Family Barbecue range of trays: reduction of 20-30% in the weight of its trays and improvement in resistance, greatly reducing their carbon footprint.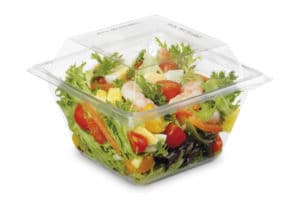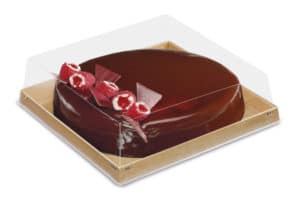 2016
Food Management Today magazine prise for the category "Industry – most innovative development" awarded to SHARPAK for its SHARPTEK packaging solution. This uses a revolutionary antimicrobial technology to reduce cross contamination in trays used for meat.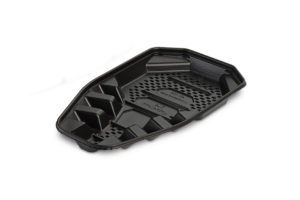 2017
Launch of the FOOD K range for food preparation and central kitchens, hot and cold use: fully eco-designed cardboard trays that can be sealed and customised.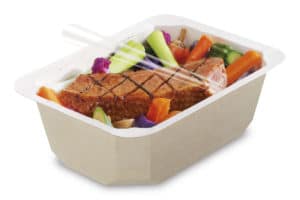 2018
Launch of the LUXIFOOD range for hot and cold prepared food: fully eco-designed and customisable trays, with a cardboard base and a recyclable PET lid featuring a secure closure.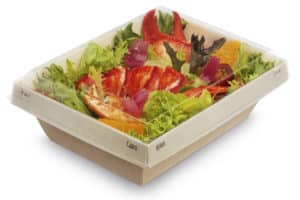 2019
The RESTIPULP range is created to offer biosourced and compostable packaging solutions to community and institutional caterers, highly appreciated in school catering.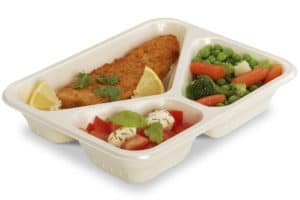 2020
Birth of ECOSOFT, a mono material, recyclable solution for the secure packaging of soft fruits such as red berries, guaranteeing longer shelf life.

2020
Launch of DUALIPACK, the separable cardboard/PET tray that has no glue or adhesive, is recyclable and contains 50% less plastic.